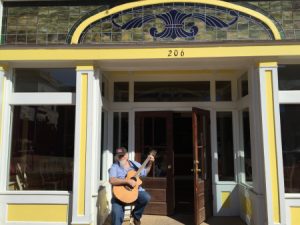 VANELLI'S BISTRO TO OPEN DOWNTOWN
By Dennis Seid
Daily Journal
TUPELO – For 18 months, diners and fans of Vanelli's have watched and waited eagerly
for news on when the iconic restaurant will reopen.
Their wait is almost over.
Owner Voz Vanelli is reopening in a new location with a new name early next year.
Vanelli's Bistro will open in downtown Tupelo in what was most recently Krumbs
Homestyle Cooking, and before that, St. Jean's Bakery & Cafe and Yellow Lovebirds.
Vanelli's vision is a bistro-style/European street cafe with seating for 40 to 60
people and limited table service. It will have an emphasis on quick-service takeout,
along with limited catering to local offices and businesses.
"I'm also looking to provide take-home meals for the working people downtown, so I'm
looking at a lunch and very early evening business initially," he said.
The menu also will be limited at first.
"I'm trying to make my menu blend with the offerings that are already available
downtown," he said. "So we'll be doing what people familiar with Vanelli's like.
Vanelli's pizza as we've always had – whole and by the slice because people will be
looking for quick service and something they can hold in their hands."
Salads, flatbreads and some desserts also will be offered.
"We're going to scratch-cook with an emphasis on nutritious, flavorful foods, using
vegetables, herbs and spices as our flavor agent," he said.
He said the food also will be "health-conscious."
"Well be baking, roasting, limited sautéing," he said. "We'll be using
nutrient-rich, aromatic flavors. We'll be using herbs and spices to flavor the food
and let the food shine through."
Vanelli is still working on the menu for the restaurant, which he anticipates
opening some time early next year.
"I don't want to put a date on it, but I have the luxury of time. And I want to make
sure we do this right," he said.
Beer and light wine will be offered as well.
Vanelli's Bistro will have a pared down menu mainly because of the size of the
building. It will be roughly 2,000 square feet, about a fifth the size of his former
restaurant on North Gloster Street before it was destroyed by last year's tornado.
The interior of the building will be renovated, with new flooring and a ceiling.
Some of the walls will be removed to make better use of the space. On the exterior,
a canopy will be added.
Vanelli is buying all-new equipment as well, including a conveyor tunnel oven that
bakes pizza – and other foods – on stone.
In addition to the food, Vanelli will have a small space at the front for one or two
musicians to provide free music.
"I'm looking for Beale Street, New Orleans, European Busker Street-style music," he
said. "But we're not necessarily looking to attract a long-term, sit-down, dine-in
crowd. … The music is for background and is a part of the overall feel of the
bistro. … It will have a hip, cool feel, and it's meant to honor the legacy of what
Tupelo has meant to the popular culture."
Vanelli has been working on the building in recent weeks, drawing plenty of interest.
Jack Reed Jr., former mayor and current businessman, was one of the admirers who
stopped in Wednesday to congratulate Vanelli and welcome him downtown.
"This is a new chapter in the Tupelo Story," Reed said.